DMG Engineering Ltd is a market leading Air Conditioning installation company based in Dublin. They where seeking to appoint a Machinery Moving specialist to support and assist with the offloading, unpacking, assembly and final positioning of Air Conditioning Equipment installation that included Air Handling Units (AHU) within the new building, Earlsfort Terrance, Dublin.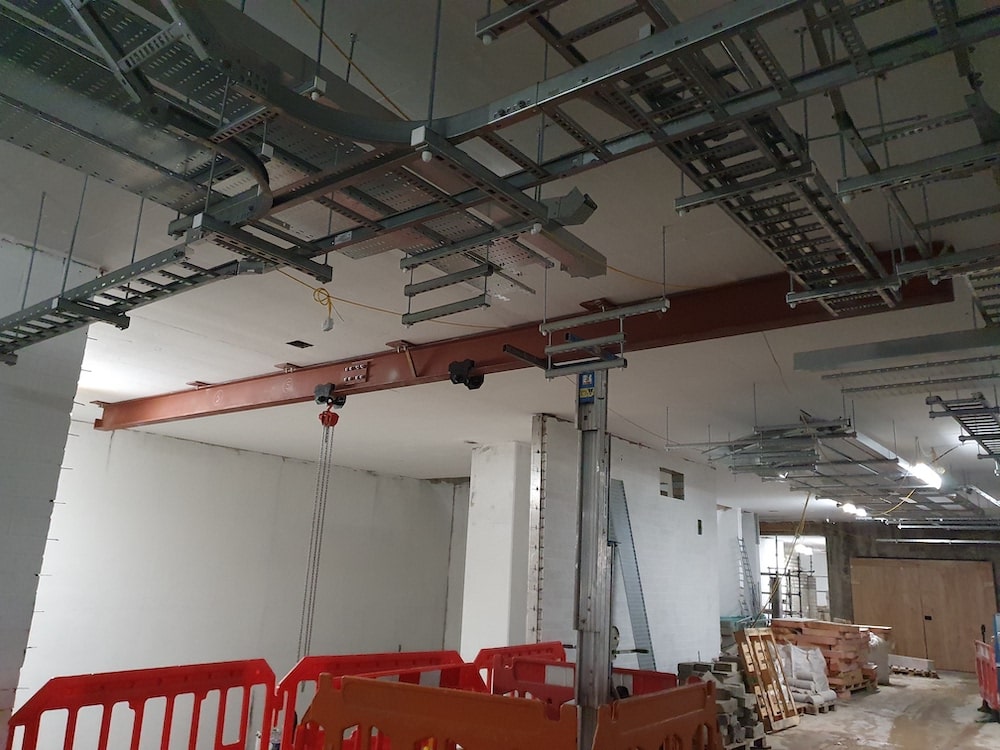 DMG Engineering Ltd have been in operation since 2004. During this time DMG Engineering Ltd have become specialists in the area of commercial Mechanical, Electrical and Air Conditioning Installations while also providing planned preventative maintenance.
WHAT WAS INVOLVED
This Air Conditioning Installation project required our Machinery Moving team to carry out detailed project planning, project management, professional rigging and moving/positioning onsite. The Cronin Movers team leader reported directly to the DMG Engineering on-site project manager.The installation required the manufacturing and installation of two 3000kg capacity ceiling mounted trolly beams above two 1500mm deep pits. The large HVAC equipment was carefully offloaded using the onsite tower crane. Each section of equipment was lowered into the basement and placed in the agreed holding area. Within the set-down area a quality / condition check was carried out on the HVAC equipment.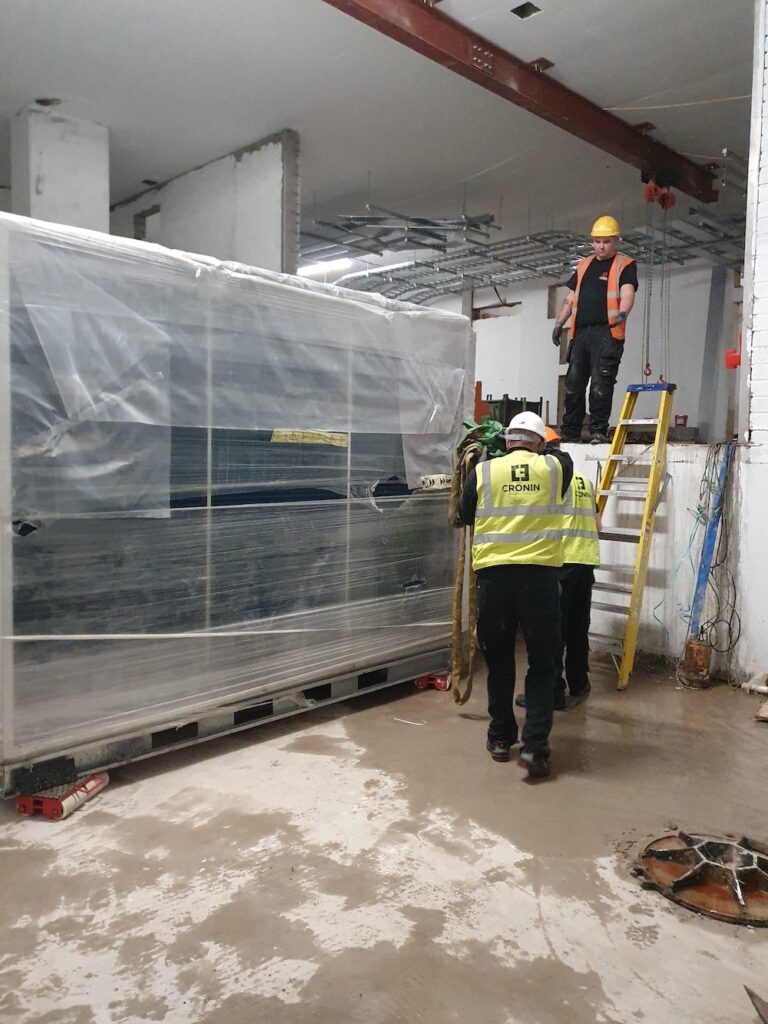 Each section of ground level HVAC equipment was moved from the set-down area to the final position area. The sections of equipment were carefully placed on the provided plinths and unpacked.Large AHU sections were moved from the set-down / unpacking area to the rigging area.A combination of slings, shackles and chain blocks were used to secure the large AHU sections to the ceiling mounted trolly beam. The AHU sections were carefully moved from the upper level, along the trolly beam and using the chain blocks were lowered into final position within the base pit. The sections of AHU equipment were carefully placed in the correct location and unpacked. These were joined together using a selection of provided bolts and neoprene gasket to form a fully completed AHU.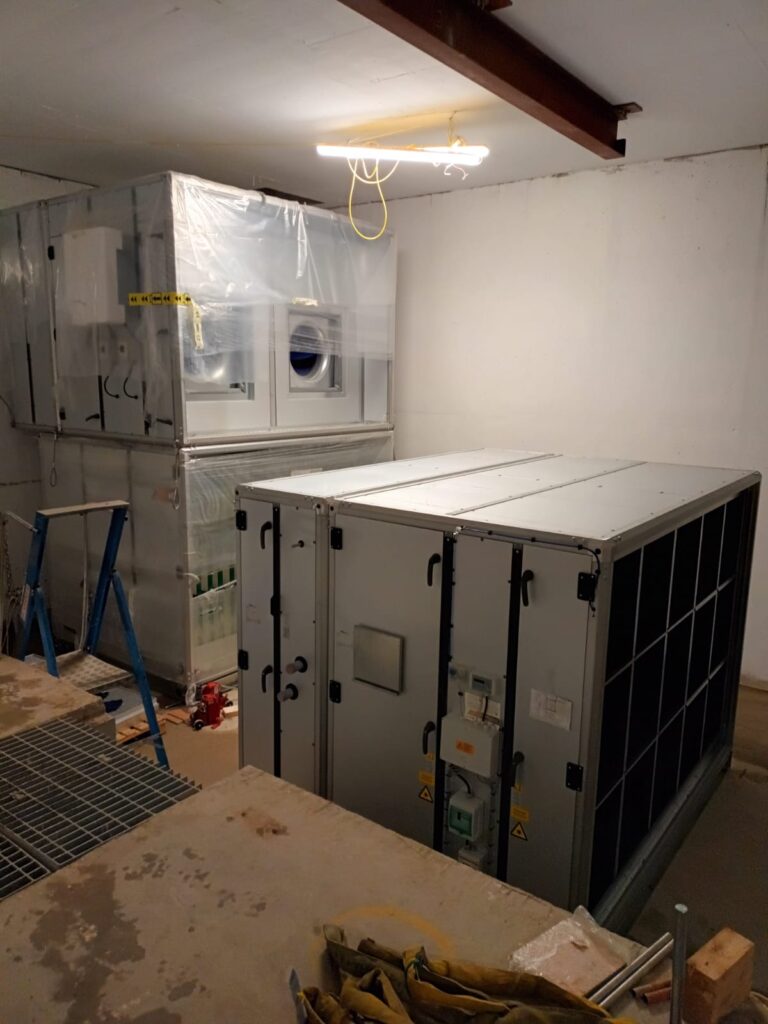 THE OUTCOME
As a result of the detailed planning and risk assessments that were initially undertaken the air conditioning equipment installation was successfully completed safely within five working days.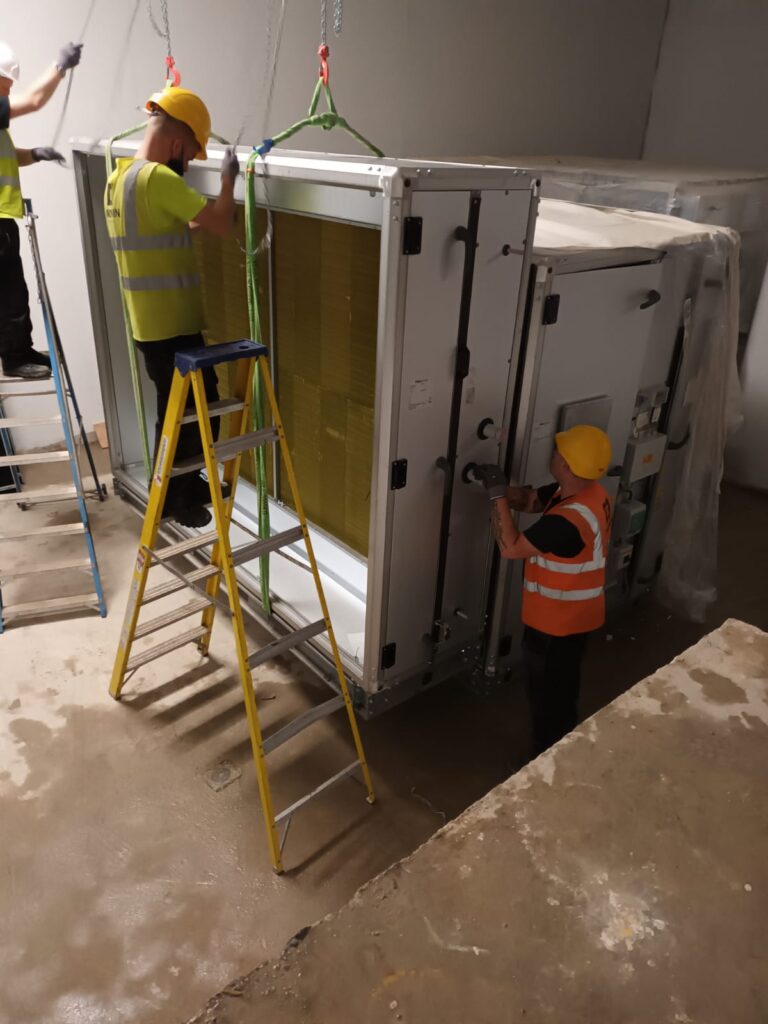 CONTACT CRONIN GROUP TODAY