Industry Tailored Workplace Relocation Solutions 
Facility Management Companies 

We operate a zero-downtime relocation and decommissioning solution for your client. Our commitment to meticulous planning, coupled with our ability to adapt to changing needs, grants you the freedom to focus on core strategic goals.

Internal Office Relocation

Offering after-hours and weekend services to ensure minimal disruption for your office relocation.

Banking & Legal Relocation

We have established highly effective procedures for handling sensitive materials. Our meticulous filing and document transportation system guarantees the safety of your crucial paperwork.

Hospital & Laboratory Relocation

Our skilled team, equipped with the relevant Health & Safety accreditations, meticulously adhere to the rules and processes when conducting Hospital and Laboratory relocations.

Over the years, we have implemented highly effective procedures for transporting library facilities and ensuring their proper placement at a new destination. Our team will handle your items with utmost care, employing secure packing methods to prevent any movement during transport.

Going the extra mile is something we take pride in at the Cronin Group, and during your university relocation, we offer a comprehensive cleaning service for the vacated space, facilitating a seamless transition out of your lease or rental agreement.

We have successfully managed numerous intricate museum relocations. With our meticulous inventory and transport process, we guarantee the comprehensive transport of your museum's assets.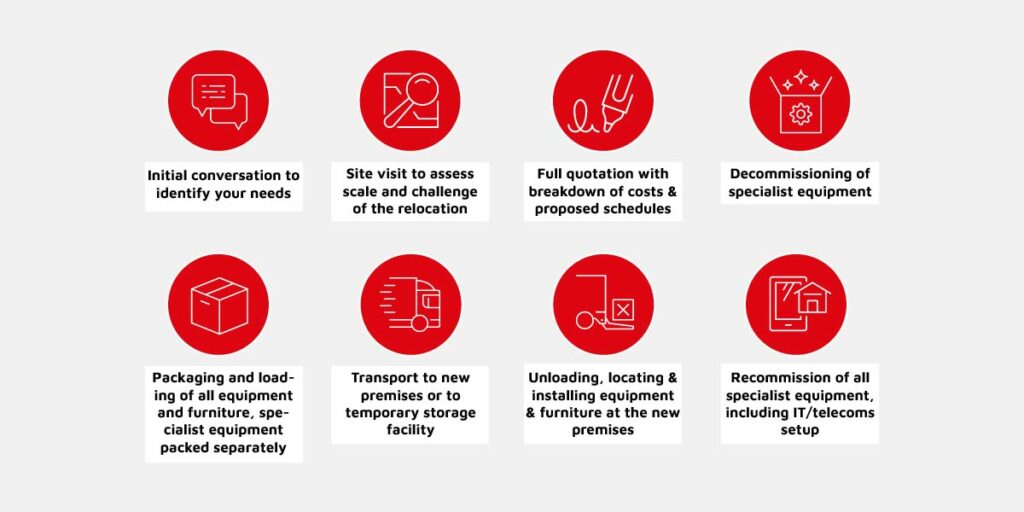 Propel Your Success with

Tailored Workplace Relocation Solutions
We have been helping business move to new premises since our inception in 1988. Throughout this time, every lesson learned and obstacle overcome has been distilled down and used to help shape our values and methods, making us an industry leader in Workplace Relocation.