This Heating Equipment moving and positioning project was undertaken for our client Centrica, as part of a larger programme of work leading to the replacement of heating systems for Tallaght Hospital.
Centrica Centrica plc is a British multinational energy and services company with its headquarters in Windsor, Berkshire. Its principal activity is the supply of electricity and gas to consumers in the United Kingdom and Ireland. It is the largest supplier of gas to domestic customers in the United Kingdom, and one of the largest suppliers of electricity, operating under the trading names Scottish Gas in Scotland and British Gas in England, Wales and Northern Ireland. It owns Bord Gáis Energy in Ireland.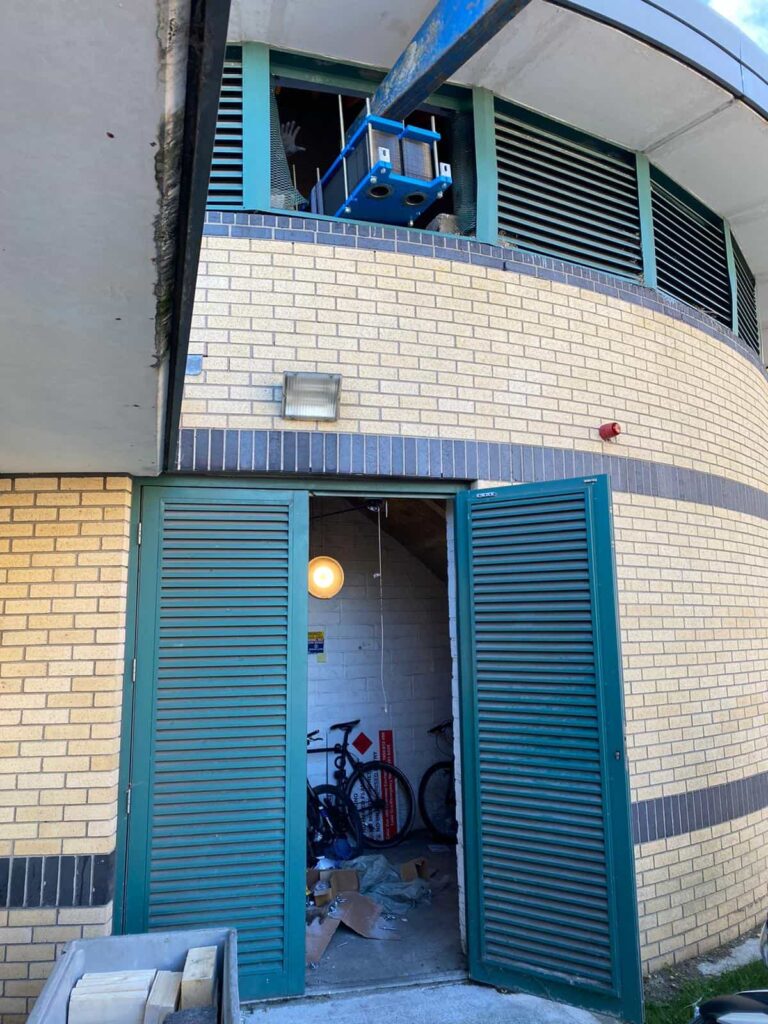 WHAT WAS INVOLVED
This Heating Equipment moving and positioning project involved undertaking a risk assessment at the hospital site to ensure the safe offloading, moving and positioning of large equipment at height, at a busy city hospital. Detailed planning was required for each stage of the equipment moves to ensure the equipment could be positioned, where needed with minimum disruption to hospital staff, patients and visitors. Our Machinery Movers Team leader reported directly to the onsite Centrica Project Manager.
Our team were selected to assist with the installation of the heating equipment at three separate locations on the Tallaght hospital site.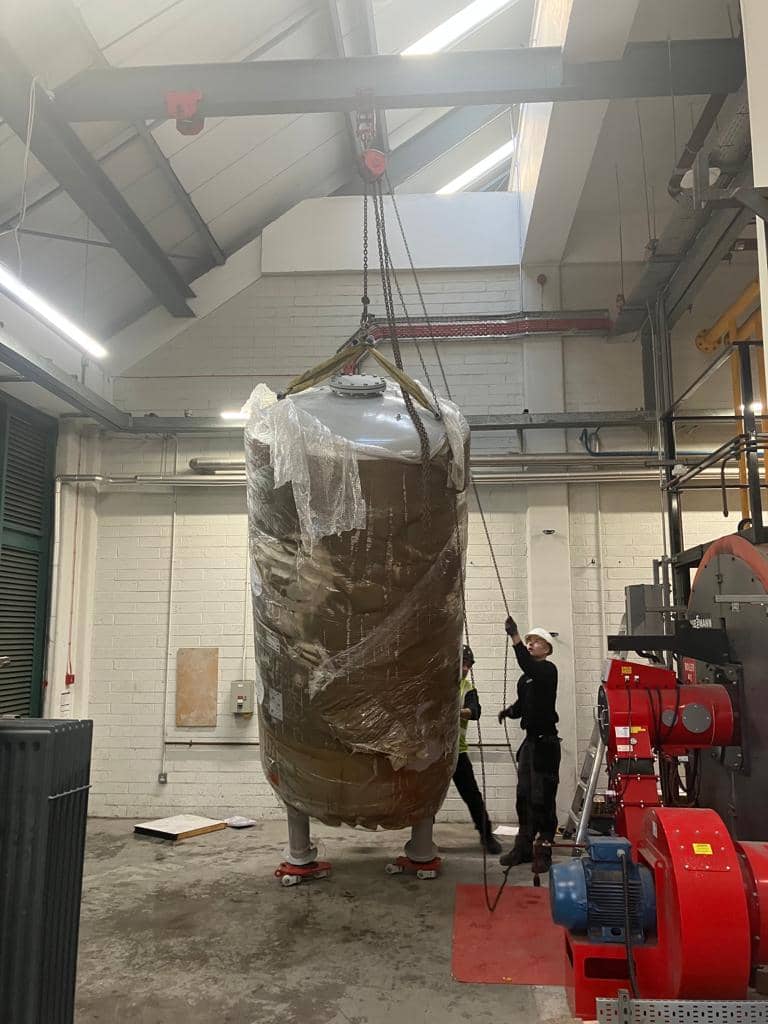 Phase 1 – Heat Exchange Units Installation
Two 750kg Heat Exchange units were offloaded from the transport trailer. The transport packaging was removed and the top section of the units were separated for lifting and positioning. The heat exchange units were wrapped with slings and secured to the telehandler jib attachment. The two units were lifted through an opening in the upper section on the Rotunda building. Once inside the plant room the heat exchange units are placed on skates and moved to the required final position.
Phase 2 – LTHW Tank Installation
A 1,250kg LTHW Tank was offloaded from the trailer and moved into a horizontal position for moving into the ground floor plant room. An internal lifting beam and chain hoist was used to 'Top & Tail' the tank into the vertical position. Once upright the tank is placed on skates and moved to the required final position.
Phase 3 – Oil Tank Installation
Two 1,150kg oil tanks were offloaded and an 85tm crane truck was used to lift the tanks over perimeter railings and set-down in the required final position.
THE OUTCOME
The risk assessment and the diligence of the team ensured that this moving and positioning project was completed safely and efficiently. All items of plant equipment were successfully placed in the final positioning locations within a 3 day period, ensuring that our clients Engineers could undertake their work within their planned schedule.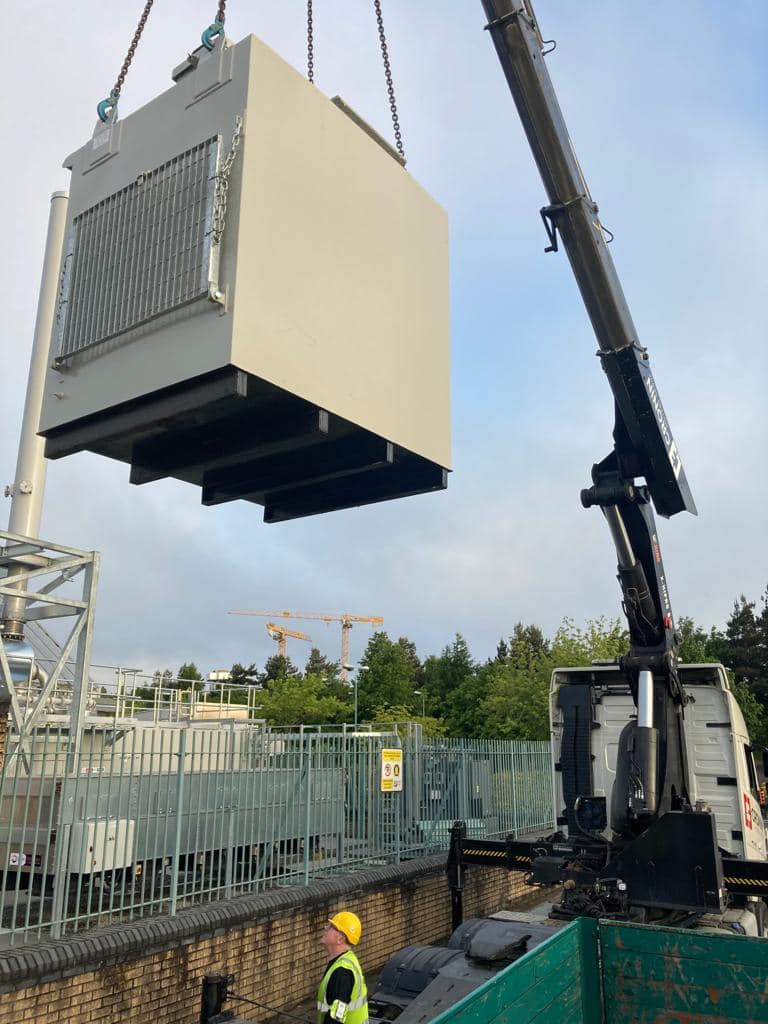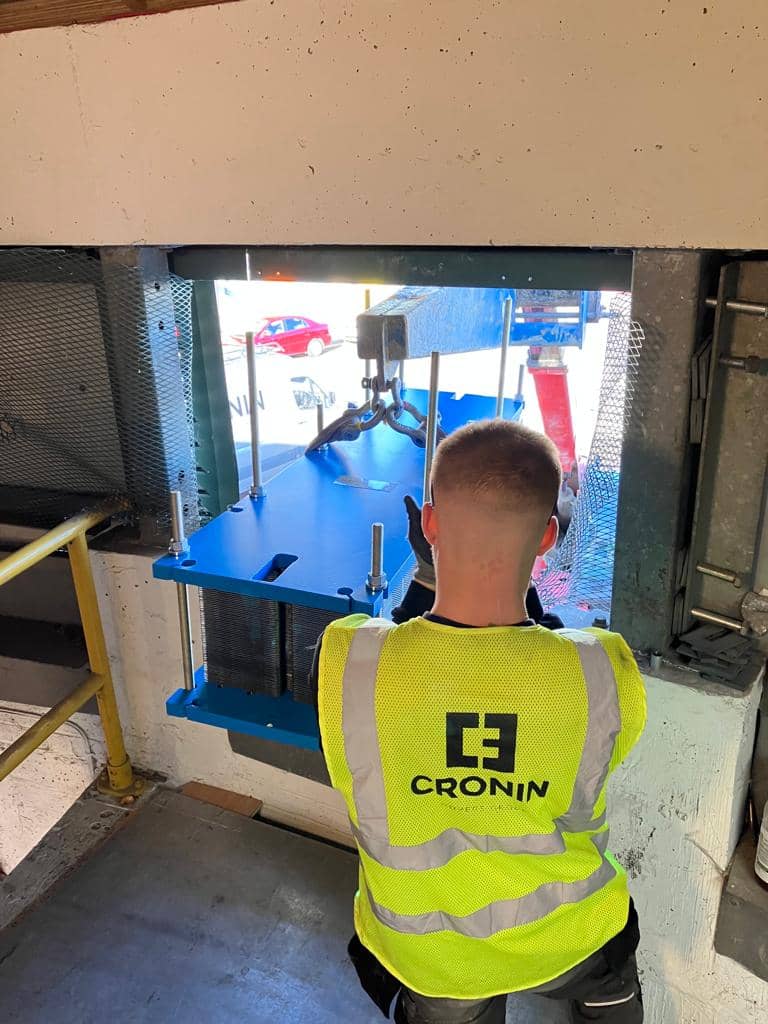 CONTACT CRONIN GROUP TODAY