This NPW Tank Offloading and Positioning project was undertaken for our client Jones Engineering, as part of a larger programme of work leading to the setup of a new processing line for a Food/Beverage processing plant
Jones Engineering are a leading mechanical, electrical and fire protection contractor operating throughout Ireland, United Kingdom, Central Europe, Northern Europe and the Middle East. Over the last century Jones Engineering have grown sustainably in both size and reputation with a turnover of €750m+ and resources of 4,000+ people worldwide.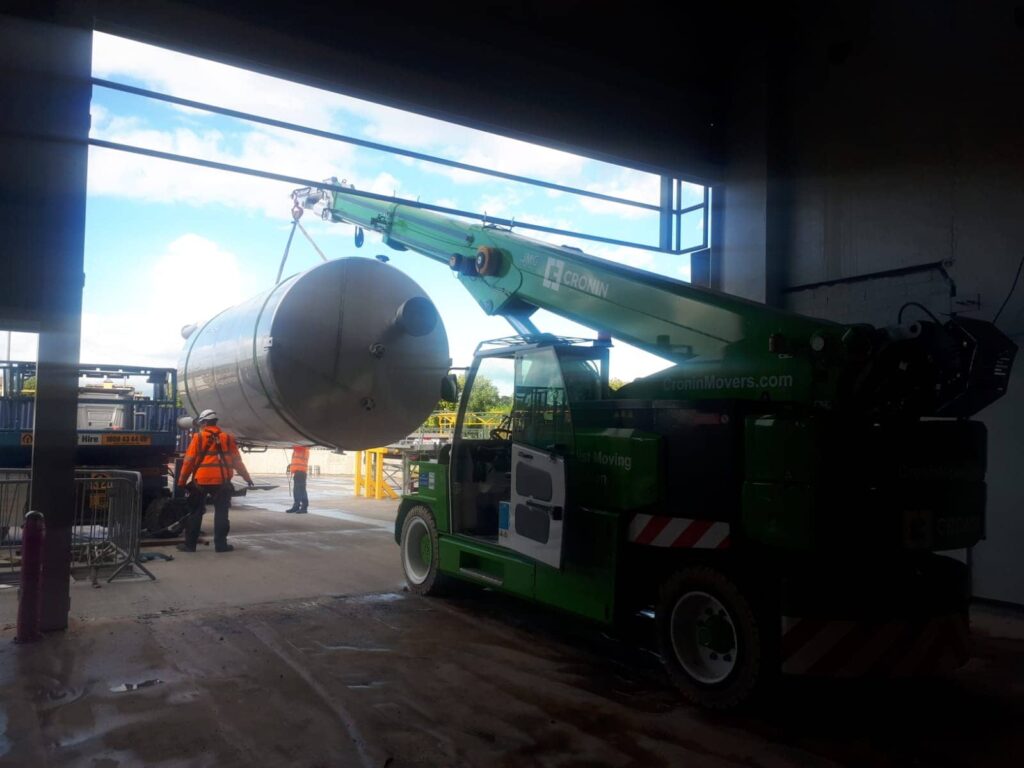 WHAT WAS INVOLVED
This NPW Tank Offloading and Positioning project involved detailed planning and a professional rigging and moving service from our Machinery Movers Team. Our team leader reported directly to the onsite Project Manager.
Phase 1
The first phase of the project involved offloading the (Non Potable Water) NPW tank from the transport trailer. Using a JMG MC250 electric pick & carry crane, the tank was wrapped with soft slings and secured to the crane hook. The JMG lifted the tank off the transport trailer and set the tank down on purpose built stillage stands.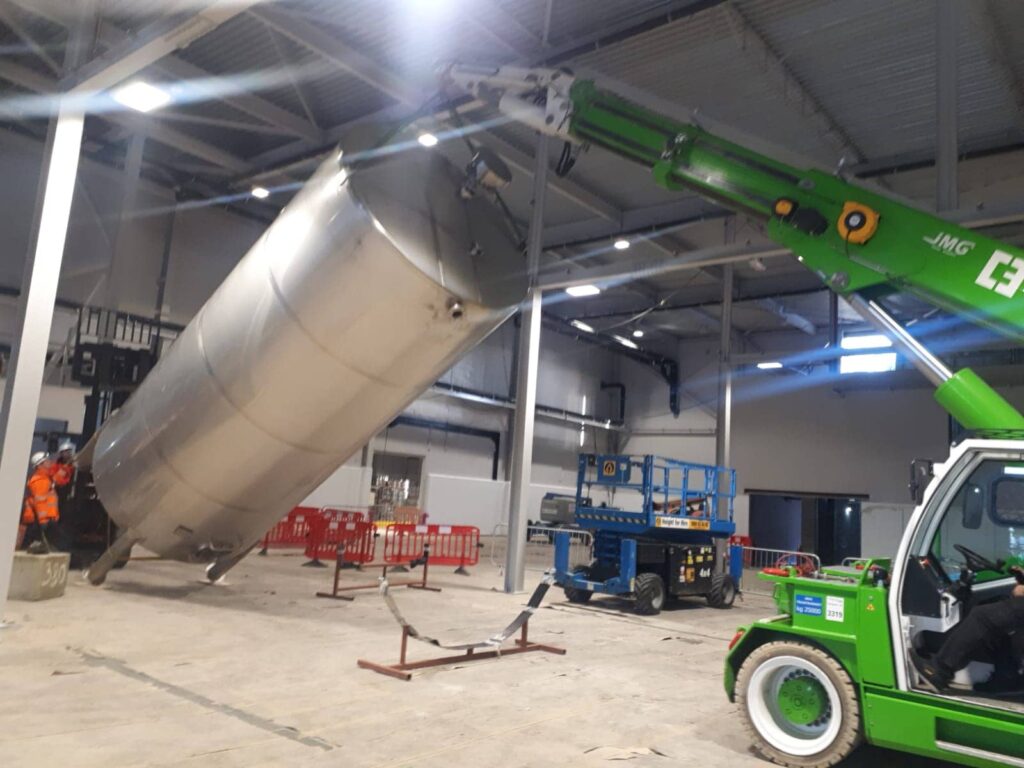 Phase 2
The second phase of the project included the 'top & tail' and final positioning of the NPW Tank in a precise location in the processing plant, bearing in mind the engineering drawings for the other plant and equipment that would be fitted around this large 35,000 litre tank. The all-electric JMG MC250 pick & carry crane lifted the NPW tank (still in the horizontal position) and manoeuvred it into the plant room. The slings were reset to the top and the bottom of the tanks lifting eyes.
Again, using the JMG MC250 at top, and a forklift at the bottom the tank was carefully top & tailed into the upright position. At this point in the process the forklift was removed and the JMG MC250 moved the tank to the required location and carefully sets it down into the required final position.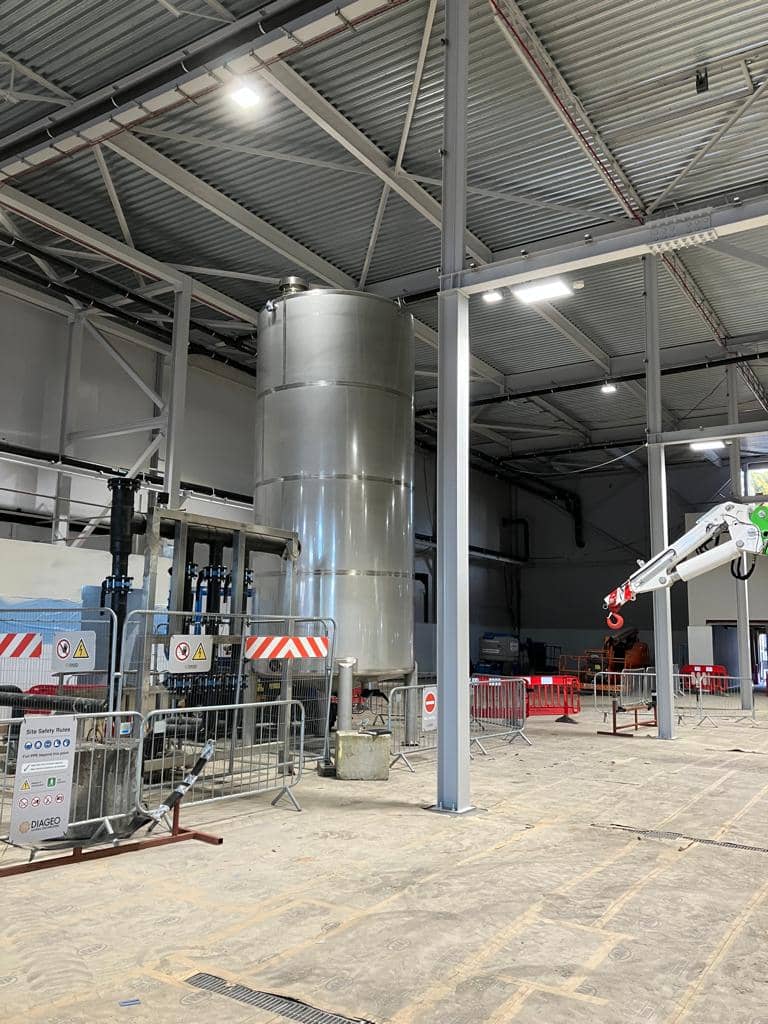 THE OUTCOME
The team leader was extremely happy with the outcome, and the project was a success from start to finish. The large NPW tank was successfully offloaded and placed in the correct location, with no impact on other important works that needed to be carried out within the area. The project was fully completed with a day enabling our client to continue with the rest of the kitting out of the processing plant.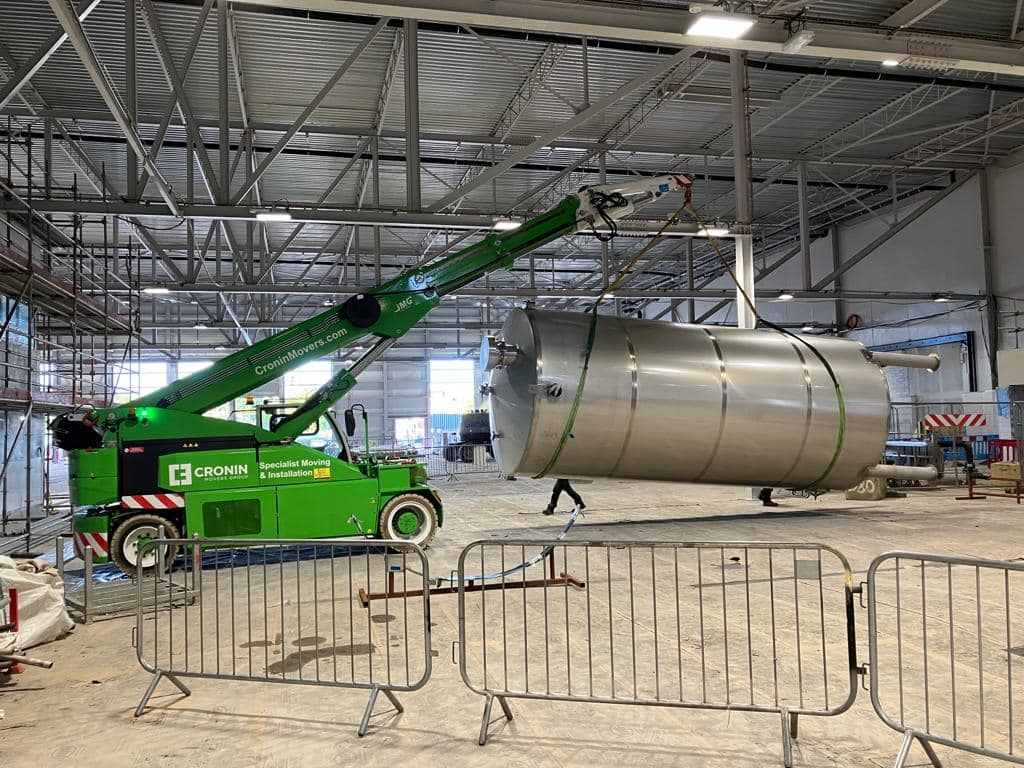 CONTACT CRONIN GROUP TODAY